WELCOME TO SIEM REAP BEYOND THE TEMPLES
Siem Reap Province offers the visitor an eclectic mix of real-life experiences that are just a short distance from the cosmopolitan town of Siem Reap, which boasts an international airport plugging it into the rest of Asia and beyond. Discover a slice of life beyond the temples and experience the real Cambodia with a visit to some of the lesser-known sights of Siem Reap Province.
The majestic temples of Angkor are one of the most iconic sights in the world. Angkor Wat is the heart and soul of Cambodia and is believed to be the largest religious building in the world. the Bayon is one of the world's most mysterious temples, with its signature enigmatic faces staring down from on high, and the 'Tomb Raider' temple of Ta Prohm is the ultimate Indiana Jones fantasy where nature has run riot. But just as there is more to Angkor than its wat, so too is there much more to Siem Reap Province than its legendary temples.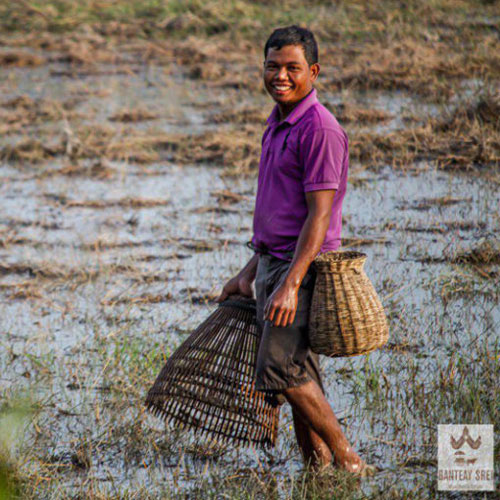 Stay another night in Siem Reap, as the province offers some of the most accessible homestays in Cambodia, ranging from traditional village houses to beautiful boutique hotels. Staying in a local village is a very different experience from staying in the bustling town of Siem Reap and recommended for an authentic experience. And it is not just traditional village houses set amid verdant ricefields, but there are also homestays available in the unique floating villages and stilted houses of the Tonle Sap.
Seek out some inexpensive local restaurants and foodstalls in the province serving classic Cambodian cuisine, including local specialties such as the noam ben chok noodles of Banteay Srei. Several of Siem Reap's districts border the Tonle Sap Lake and fresh fish and shellfish are widely available. It's also possible to learn the secrets of Cambodian cuisine with a cooking class at one of the homestays in the province.
Lifestyle activities are available, including village walks, farm visits, ox cart rides and boat trips in natural beauty spots. Trekking and cycling are taking off with hikes to sacred mountains and biking through traditional villages. When it comes to nature, Siem Reap is home to the Angkor Centre for Conservation of Biodiversity, a wildlife rescue centre, some rare forest birds in the wilds of Chang Kran Roi, and the holy mountain of Phnom Kulen, home to some shy mammals in its forest.
Siem Reap is not just a base to explore the temples of Angkor, it's the place to plan some authentic off-the-beaten track adventures.
DESTINATIONS
Explore the Districts